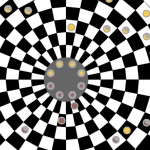 My friend Harry showed me an interesting board game recently. It's called Cirondo and basically is chess in a circular domain. As far as I know it is no longer being produced but it can be ordered here: cirondo.de and the website is offline now too.
Here's my (low graphics) Flash version: Link to SWF
The game should be quite self explanatory the way I made it. Possible moves are highlighted as soon as a stellar is selected. A sun comes into game when a moon reaches the center circle.
If anyone is interested in the sourcecode, don't hesitate to contact me.
Related Topics: